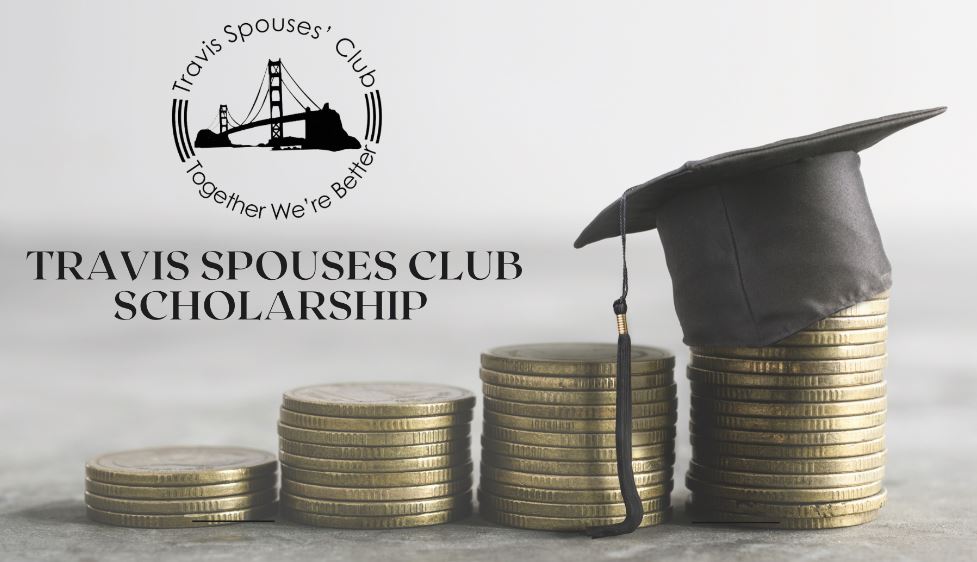 Travis Spouses Club Military Dependent Educational Scholarship
For the Children, and Spouse, of our United States Military Members.

---
Each year the Travis Spouses Club, as part of their Charitable Giving Program, acknowledges and rewards outstanding academic achievement and school and community involvement of eligible United States military members' dependents and spouses, of any rank, by offering financial assistance for study at higher learning institutions. Scholarship awards will be presented to local graduating military dependent high school seniors and local military spouses. We encourage all eligible students and spouses to apply.

Awards may be used at an accredited United States college, university, or technical/trade school for tuition, books, and on campus room and board expenses.
ELIGIBILITY

To be eligible for a scholarship award applicant must meet all of the following (5) numbered requirements below:
Applicant must be a legal dependent family member of one of the following:
a. an Active Duty, Guard, or Reserve Component assigned to Travis Air Force Base unit or on a remote assignment with family members residing in Solano County or Sonoma or Napa counties.
b. a retired United States Military member residing in Solano County or Sonoma or Napa counties.
c. a deceased United States military member residing in Solano County or Sonoma or Napa counties. (K.I.A. or M.I.A)
The applicant must be a natural-born child, legally adopted child, dependent stepchild, or a dependent spouse
Applicant does not have to reside with the sponsor to be eligible for an award but must be able to provide a local resident address or other proof of eligibility based on locality or assigned station
Applicant and sponsor, must have a valid dependent military identification card, or other proof of eligibility (DD 214 of sponsor, print of registration in the DEERS system, etc.)
Applicants may NOT have:
a. already accepted a full scholarship/grant to an institution, or the appointment to a military service academy
b. already awarded and accepted a Travis Spouses Club Scholarship in the past or have accepted another military spouses' club scholarship from any other base
c. a duty with or be on the Travis Spouses Club Scholarship Committee
d. a parent, family member, or acquaintances that with a duty with or is on the Travis Spouses Club Scholarship Committee
---
Application may be submitted starting on: January 1
Application packages must be postmarked or received by: March 15
Return of Verification of Enrollment Form by: September 30
---
Eligibility, Requirements, Instructions, and Forms Package – Download Here

---
For information you can send us an email to: scholarships@travisspousesclub.com

Travis Spouses Club
Attn: Scholarships
PO Box 1475
Travis AFB, CA 94535